Life after Spreadsheet-Based Inventory: Streamline Your Processes with GEAR App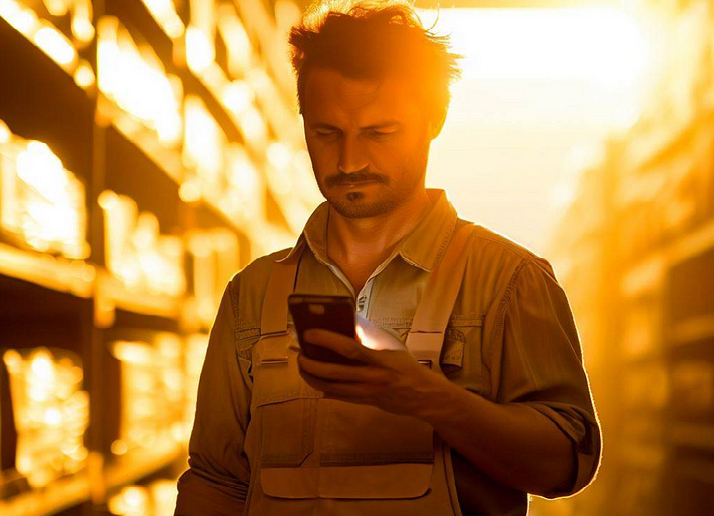 If you're like most businesses, you probably use a spreadsheet to track your inventory.

Spreadsheets have long been a go-to tool for managing numbers and physical assets for inventory management, but they can become cumbersome and prone to errors. Are you tired of struggling with traditional spreadsheet-based inventory management?

Thankfully, there's a solution — an innovative inventory app called GEAR. In this blog, we'll explore the challenges of spreadsheet-based inventory management, the benefits of automating with an app, and how GEAR simplifies your inventory processes while keeping your spreadsheets in sync.

Your Typical Inventory Management with Spreadsheets
Managing inventories using spreadsheets can be a daunting task. Despite their familiarity and ease of use for managing numbers and assets, updating specific items and avoiding mistakes can be challenging. With numerous inventory templates available, it's still easy to get lost or miss important details. Manual data entry and constant updates make it difficult to maintain accuracy and efficiency.
Transition to Traditional Inventory Management Software?
If you're searching for a more efficient, easy, flexible and automated way to manage your inventory, you may have considered inventory apps. However, many of these solutions are costly, complex to implement, and challenging to use. They often require dealing with different databases and may lack the familiar spreadsheet-style reporting that you're accustomed to. In some cases, real-time updates seem like a distant dream.
Solution: Real-Time Inventory with GEAR
What if there was an app that seamlessly connected your spreadsheets and inventory management tasks with the same level of flexibility as a spreadsheet, but also easy to customize on an application level while maintaining accuracy?
GEAR is the answer to your inventory management woes. It acts as a bridge between your spreadsheet and your inventory, allowing you to scan and update assets on your mobile device, with everything automatically synced to your spreadsheet.
So, How Does It Work?
Let's break down the process of using GEAR to revolutionize your inventory management:
Step 1: Start with your existing Google Sheets inventory.
Let's say it has barcodes or SKU numbers, quantities, prices and other relevant information like this.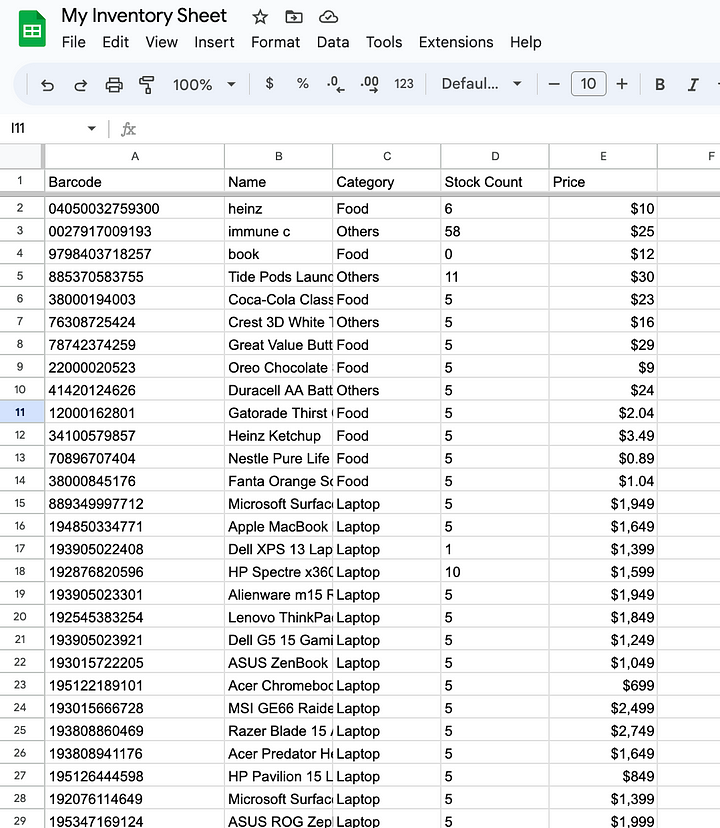 [Your master inventory data on Google Sheets is something like this]
Step 2: Install the GEAR mobile app from the Google Play Store or Apple App Store.
Log in using your Gmail account and build a form with fields such as name, quantity, category, etc. Then, the GEAR spreadsheet is generated in your Google Drive and ready for you to access. Watch this video to learn how you can create a custom inventory app that syncs with Google Sheets in just 2 minutes.
[Watch this video; it will give you an idea.]
Step 3: Copy your inventory data into the GEAR's spreadsheet.
Now you can just copy your inventory data over to Gear sheet and match columns to ensure your inventory values are aligned with the app form fields.
Step 4: With the GEAR mobile app, simply scan the barcode or QR code on your inventory assets.
Watch the app's remarkable ability to effortlessly retrieve data directly from your spreadsheet. Update the necessary information on your mobile device, and voila! The changes are instantly reflected in your spreadsheet in real-time.
Please note that each scanned entry is recorded with a timestamp, and I have added form fields such as GPS coordinates to track the location. Additionally, I have manually added a formula for restocking purposes. Yes, you can also take advantage of Google Sheets' functions!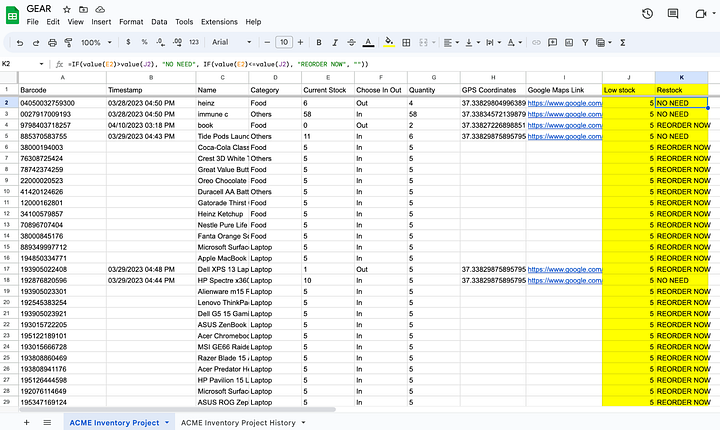 [Spreadsheet Synced with GEAR App: Notice that the column is similar to the above master sheet. Also, please check the functions/formulas for restocking.]
GEAR PRO comes with QR code generator
If you don't have barcodes on your assets, no worries! Our PRO plan includes a bulk QR code generator and onboarding startup support. 2D barcodes, such as QR codes, offer greater data capacity, improved scanning speed, enhanced readability, and built-in error correction. With the GEAR's QR code generator, you can print QR codes on a label sheet and easily affix them to your assets. For example, you can use an Avery label sheet for this purpose. Plus, the PRO plan provides peace of mind with dedicated support for seamless transitioning from spreadsheets to our connector app, without any limitations.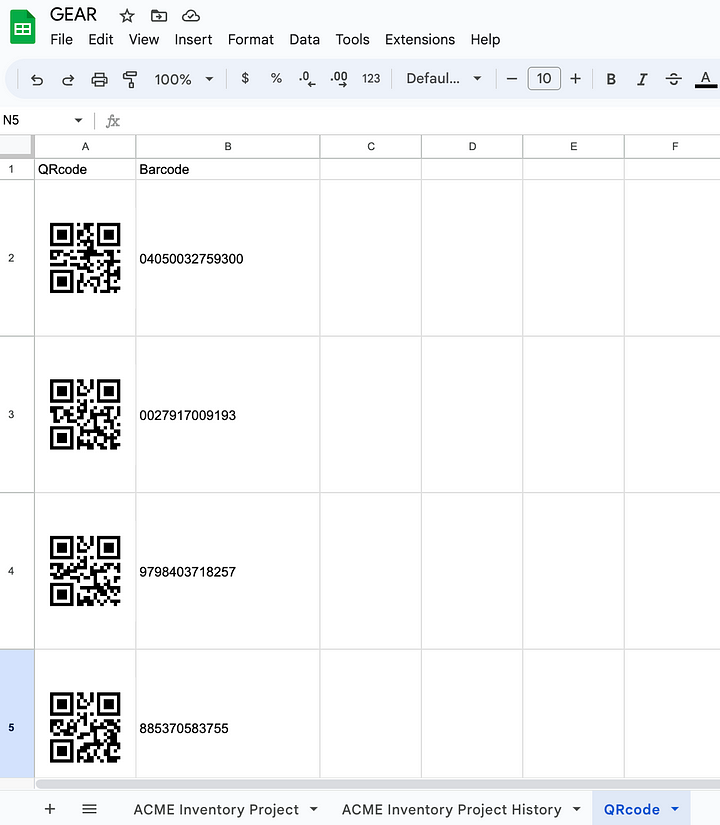 [QR code generator by GEAR: You can generate QR codes and print on a label sheet]
GEAR's Impact to your business
With GEAR, you can bid farewell to the challenges of spreadsheet-based inventory management. Say hello to a streamlined, efficient process that ensures real-time synchronization between your mobile device and your trusted spreadsheets. Embrace the power of automation and enjoy the convenience of managing your inventory seamlessly with GEAR, available on Google Play and AppStore.
Next stop? GearChain DApp.
Our upcoming decentralized app GearChain is set to be a total game-changer. Brace yourselves for an entirely new user experience that seamlessly integrates spreadsheets while harnessing the power of generative AI and blockchain technologies. We're bursting with excitement to unveil it in our next blog post. Stay tuned!